Skip to Content
Hydro Mobile P Series Rental
P-Series Mast Climbing Platforms for Smaller Jobs
The P-Series mast climbing platform is the perfect tool for smaller jobs that require high capacity or for restrained work areas where most climbing work platforms can't fit, whether for new construction or restoration. With its high load capacity (6,000 lbs at 28′ length) to size ratio, it is ideal for multi-residential or small commercial masonry jobs between 15′ and 100′ in height. The P-Series mast climbing work platform offers an attractive price/performance ratio. It is extremely portable and set up is both easy and very quick. In addition, this work platform is adaptable to angle configurations and boasts a 10 feet per minute climbing rate. By reducing labor costs and set-up time, the P-Series can contribute to an estimated 30% increase in productivity.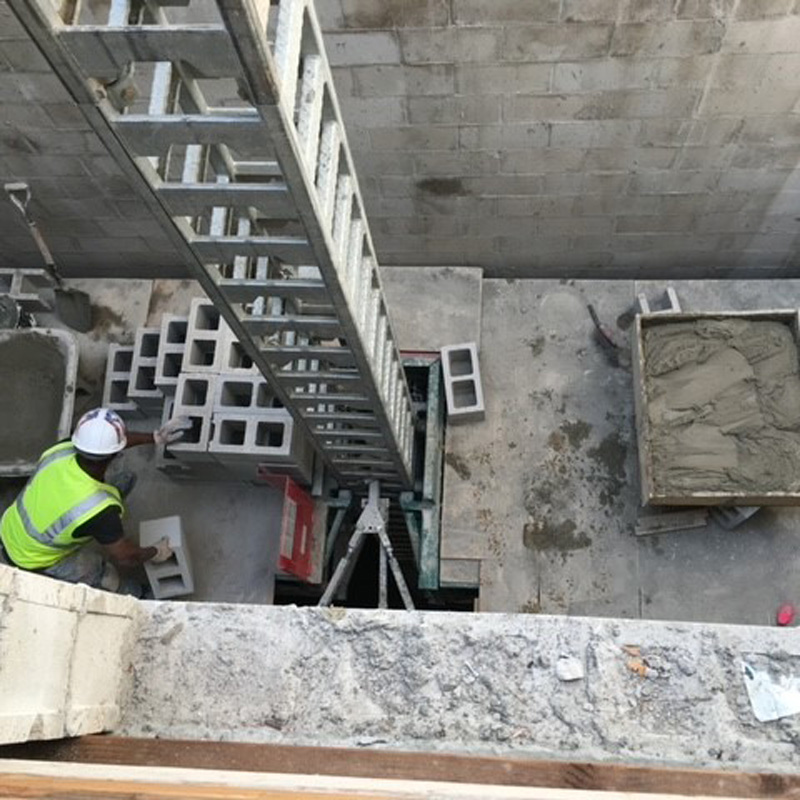 P-Series Shafts
The P-Series motor unit is less than 30″ wide and can be wheeled through a standard doorway opening and be assembled by hand. This feature makes it the perfect way to build your elevator shafts and stairwells from the inside.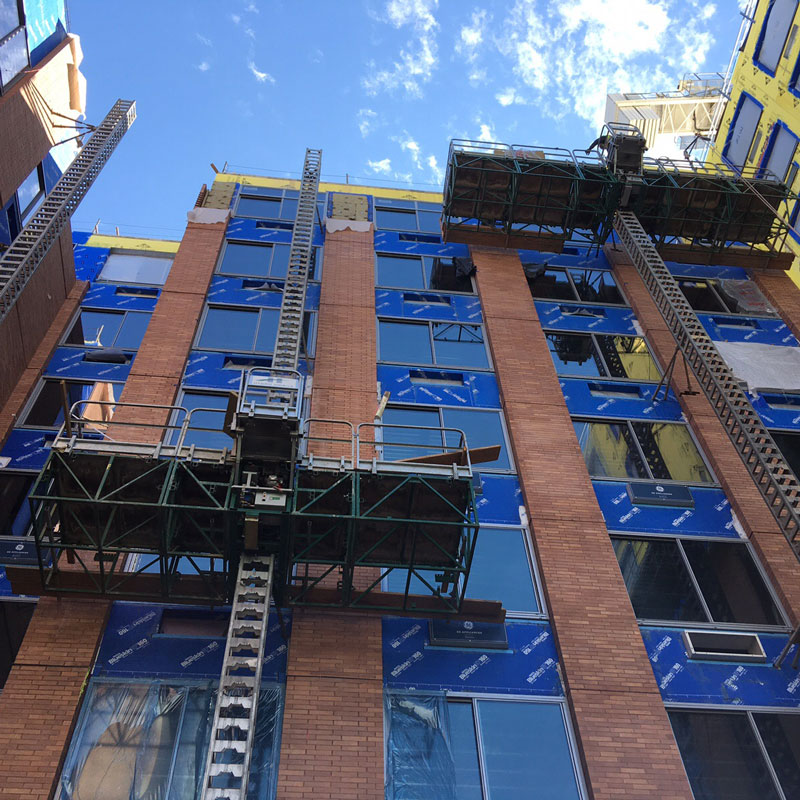 P-Series Systems
The single mast set-up has a load-bearing capacity of 6000 lb at the maximum 27'5″ set-up length, very high for a platform of this size.
Platform dimension (transport): W x L x H: 42″ x 76″ x 76″ (fully assembled)
Min./Max. platform length single mast: 7'5″ / 27'5″
Min./Max. platform length twin mast: 63'4″ / 83'4″
Maximum load capacity – single mast: 7500 lb at 7'5″ / 6000 lb at 27'5″
Maximum load capacity – twin mast: 11,450 lb at 63'4″ / 9750 lb at 83'4″
Maximum height: Up to 250′ without prior authorization from Hydro Mobile
Tie distance: Up to 20′
Free-standing: 20′ with base outriggers extended at a 30-degree angle
Climbing speed: Up to 7′ per minute
Drive system: Hydraulic Ratchet Drive
Operating system: 3.5″ hydraulic cylinders @ 2800 psi
Engine type: 9 HM gasoline engine – with electrical starter
Safety device – Emergency descent: Electrical independent control descent
Total platform weight: 2550 lb (fully assembled)
Mast section: 16″ x 16″ x 60″ | 235 lb per section
Base dimension + weight: 36″ x 67″ x 72″ | 1130 lb
Service Scaffold Is Your Local Expert With the Broadest Range of Products and Services