Skip to Content
Service Scaffold Company Inc Mission
We at Service Scaffold Company Inc have a true passion for scaffold & the relationships we build with our clients.
Our mission is to provide turn-key access solutions to our clients while maintaining our commitment to the highest safety standards.
Our goal is to provide the highest quality and most cutting-edge products and services while maintaining the level of attention to our clients that only a family-owned and operated business can provide.
Our History
Service Scaffold Company Inc started with an idea by founder Mac Ingber in 1956. From a small rental company, Service Scaffold grew quickly as the premier scaffold provider for the "borsch belt" Catskills resort hotel area. By securing projects such as the original Concord Resort as well as providing the scaffold for the original Woodstock festival in 1969, Service Scaffold has created a reputation for providing its clients value for over 60 years. As a 3rd generation business, the current owners have expanded the offerings and capabilities to become one of the premier and most trusted scaffold companies in the tri-state area.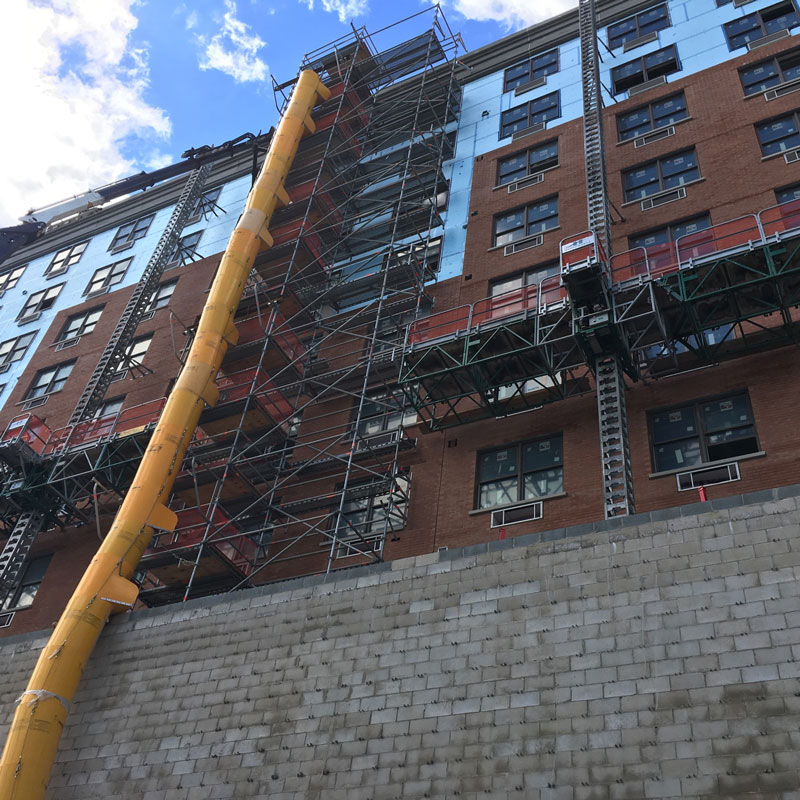 Responsive to Our Clients
Service Scaffold Company Inc is family-owned and operated, with a rich history of experience and a family tradition of hard work and dependability. With a combination of forward-thinking leadership and a strong base of talented labor, we have developed a comprehensive workforce solution that delivers proven value by meeting the business objectives of each customer and scaffold project.
We strive to be a good partner by sharing our expertise with customers and offering solutions that go beyond identified challenges. Our approach is to be a proactive partner, working together to anticipate problems before they develop, and implement cost-effective procedures and techniques that promote safety and work-site efficiencies that meet customer goals.
Our Mission is to offer the highest level of customer service and attention to detail on every project we undertake in an effort to build a profitable, sustainable company while becoming a leader in the field of access solutions.
New York & New Jersey's Reliable Contracting Resource
We are ready to serve your project needs with a broad range of products to rent or purchase, erection and dismantling services, training and technical support, and engineering consulting and design. Our clients in New York have projects in areas like Bergen, Westchester, Hudson, Dutchess, Ulster, Putnam, and Rockland. New Jersey clients we serve include communities in Middlesex, Hackensack, Sussex, Union, Orange, Passaic, and Morris.
Service Scaffold Is Your Local Expert With the Broadest Range of Products and Services