Skip to Content
Erection & Dismantle Services
Turn-Key Vertical Access Erection & Dismantle Services
Service Scaffolds provides turn-key estimating, design, erection, and dismantling of construction scaffolding. We serve the entire Tri-State Area of New York, New Jersey, Connecticut, and Pennsylvania. We create successful partnerships with our clients throughout the entire construction process to ensure all of your vertical access and protection needs are met on time. Service Scaffold brings over six decades of commitment and dedication from a family-owned and operated company to produce quality results in the safest and most professional manner possible. We offer stair towers, debris chutes, protection canopies, mast climbers, shoring, hoists, and landing platforms.
Service Scaffold has a highly skilled team of scaffolders that can carry out any project in any condition to meet customer deadlines. We pride ourselves on undertaking all types of commercial scaffolding work and completing the job on time and within budget.
We can deliver all the necessary materials to your project site and you can assemble the scaffolding, or we can assume full responsibility for the design, delivery, erection, and dismantling of the scaffolding for you. Service Scaffold Company has an experienced team of certified scaffold erectors with the skills and safety training to provide you access to your work as quickly & safely as possible. Our team will assess, recommend, and implement the appropriate turn-key solution for erection, maintenance, and dismantle services. You can be assured that our erection crews will meet and exceed all OSHA standards. Whether you are planning new construction, restoration, demolition, or industrial maintenance content, allow one of our experienced installation teams at Service Scaffold Company to supply your vertical access equipment. Service Scaffold offers scaffolding products for sale, in addition to rental, in order to meet specific job site needs.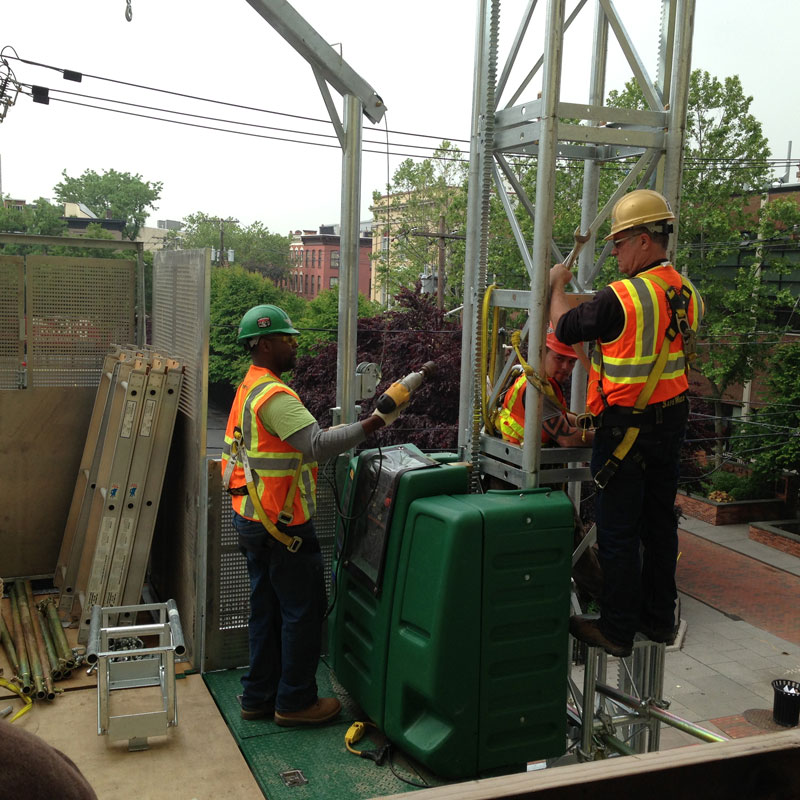 Highly Qualified Team With Extensive Safety Training
At Service Scaffold Company Inc we go the extra mile and take additional precautions to ensure each worker is kept safe while working on the project site. We provide job site protections such as:
Overhead protection
Jobsite containment
Safety netting
Personal fall arrest systems
We place a very high priority on educating workers on proper procedures and safety requirements for working on scaffolding. Each of our employees undergoes rigorous and ongoing training on scaffolding erection/dismantle and safety techniques. We train our team to recognize any unsafe hazards or conditions and are given the authority to stop work to correct any issues they identify. We address all safety issues immediately and work diligently to adhere to and maintain the highest scaffold safety standards for all worksite projects in the Tri-State Area of New York, New Jersey, Pennsylvania, and Connecticut.
When you choose Service Scaffold Company Inc,  you will work directly with a highly trained team of engineers & builders who prioritize safety. We conduct multiple safety inspections throughout each project's life cycle including a complete inspection before releasing the scaffold to be used by our clients and daily inspections for any safety issues before work that day begins. We use only the highest quality equipment to withstand even the most extreme environmental conditions, including heavy ice, snow, high-speed winds, and even earthquakes. Service Scaffold Company Inc has a team of erection specialists with extensive training and experience installing scaffolding to start your project and dismantling it when you finish. All our workmanship adheres to the highest safety standards.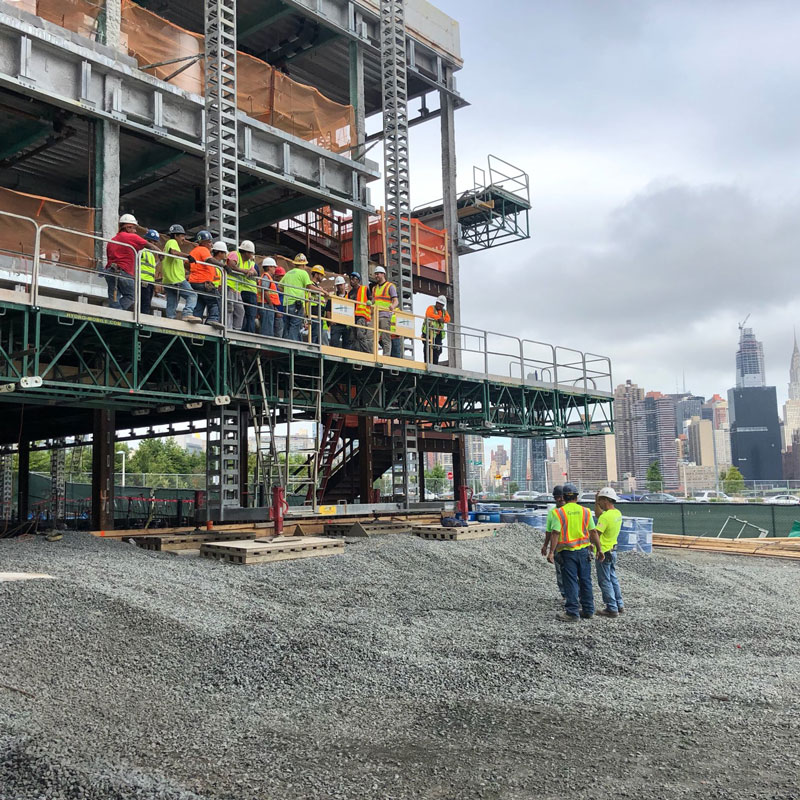 Safety Is Our Number One Priority
At Service Scaffold Company Inc, there are no shortcuts when it comes to safety. Since we began operation over 6 decades ago in the New York and New Jersey region, we have held ourselves & each of our employees to the highest safety standards. We ensure that any of our services including scaffolding systems, swing stages, hoisting, shoring & wall bracing are built with the highest level of structural integrity. Our staff is trained with rigorous OSHA-compliant safety standards, conducts routine communication surrounding safe work practices, and holds monthly safety training. Each employee is trained on awareness in how to anticipate job site hazards and best practices in maintaining a safe working environment. Each job site is audited routinely by a full-time safety manager to supervise the operations of every phase of the project.
Vertical Access Solutions in New York, New Jersey, Connecticut, and Pennsylvania
Our highly experienced staff can handle every aspect of your scaffolding job while meeting or exceeding OSHA regulations. We offer a full range of product lines that include mast climbers, frame scaffold, systems scaffold, rolling towers, debris chutes, netting, wrap enclosures, fall protection systems, and a variety of material and personnel hoists.
Service Scaffold Is Your Local Expert With the Broadest Range of Products and Services