Skip to Content
Construction Hoists & Transport Platforms
Passenger/Material Hoists & Transport Platforms
Service Scaffold Company Inc. is the Tri-State Area's hoists & transport platforms expert provider of turnkey solutions for all of your vertical access transport platforms, material, and personnel hoist needs in New York, New Jersey, Connecticut, and Pennsylvania. We offer state-of-the-art equipment for transporting workers and materials. No matter the project size or budget we have the vertical access solution to meet your construction project needs.
All of our equipment is equipped with the latest and most up-to-date technology, designed to increase production and safety while minimizing downtime. All of which will increase the bottom line and provide value to our clients.
You can trust that Service Scaffold Company can take you from the pre-construction /design phase of your project all the way to mobilization.
The construction industry has long relied on innovative ways for vertical transportation of personnel and materials through the use of hoist equipment to significantly improve the project timeline.
Renting hoist equipment from Service Scaffold Company provides ease of transfer especially of bulky loads within midrise to hi-rise construction projects. We offer vertical access solutions that greatly reduce time and save money from using manual labor to transport materials and workers alike.
Our services include
Personnel Hoists
Material Hoists
Horizontal Floor Slab Hoists Setup
Transport Platforms and Back Structures
Industrial Applications
Renovations
Engineered Layout Drawings
Servicing and Maintenance
Diverse Fleet Scalable in Weight and Size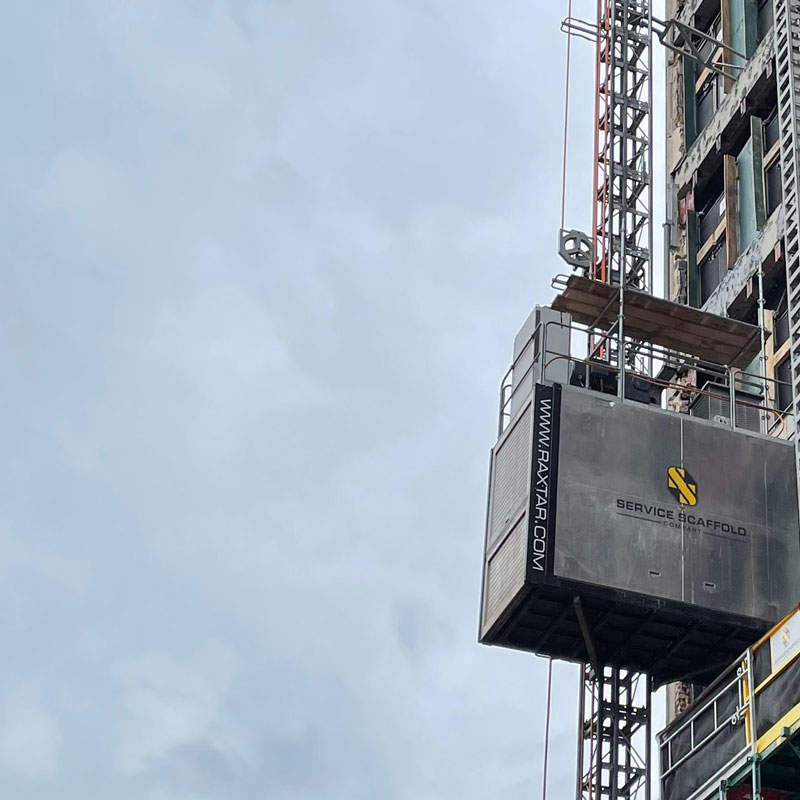 Top Of The Line Construction Material and Personnel Hoist
The lifting cages from these construction elevators are comprised of light materials and can be mounted on either side of the mast. They are operated by a joystick, electronic panel or can be driverless, while the Flex-Drive system allows for smooth operation, reducing wear on the mechanical components.
The passenger and materials hoists have a payload capacity of up to 7,000 lb, with a lifting speed of up to 300 ft per minute and a standard lifting height of 660 ft, with higher options available.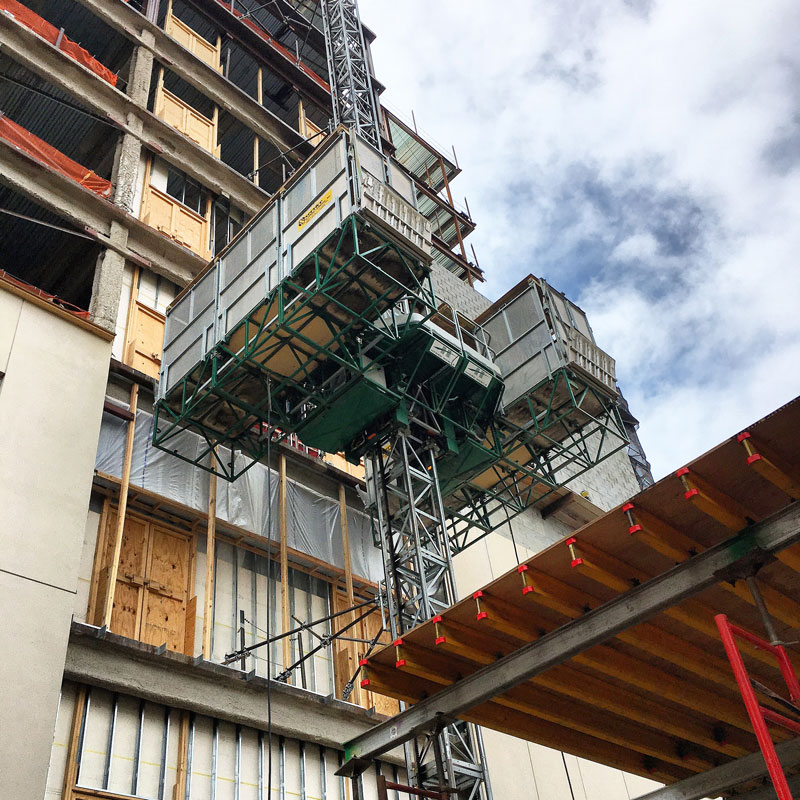 Transport Platforms
The Transport Platform offers an intelligent, cost-effective complement to other Hydro Mobile systems. Any material required by a subcontractor can be easily and rapidly transported (internal framing and finishing, doors and windows, HVAC, plumbing, electrical and more, including debris removal). A new economical and secure access platform solution for workers and materials.
Hydro Mobile's Transport Platform allows for increased productivity and cost savings…
Easy to operate and load
Does not require a dedicated operator
Operator Training is provided for all employees
High Flexibility: The modular aspect of this transport platform allows for multiple configurations
High Power: Electric or gas powered
High Capacity: Up to 4000 lb (1814 kg) load
High Efficiency: Two independent working units on one mast
Service Scaffold Is Your Local Expert With the Broadest Range of Products and Services